Project Indicators
Project Management
Gender balance in the whole consortium (no./% women/men/other)
Presence of women as lead resarchers/Pis in the project (no./%women, men, other)
Training on gender equality in the research team (no./%women, men, other)
Equity, Diversity and Inclusion Committee consortium (no.%women, men, other)
Gender Equality
Gender balance in the whole consortium (no./% women/men/other)
Presence of women as lead resarchers/Pis in the project (no./%women, men, other)
IGAR - Integration of sex, gender & diversity analysis into research
Data collection tools capture information relevant to sex/gender
The variables used hightlight the relationship between the SDGs issues studied and gender factors
The project brings out differences/inequalities between women and med in the field (if any)
Research outputs
Presence of women as first authors in academic papers (no. /% women, men, other)
Positive impact of the project on gender equality/scientific evidence on gender in the field
Academic papers in gender vs. Other journals (no).
Dissemination and communication
Presentions in conferences/workshops vs. Other conferences/workshops (no.)
Training conducted in the framework of the project (no./% women, men, other attendees, )
Co-organized conferences linked to the project (no./% women, men, other attendees)
Quality of the dissemination activities (gender perpective, inclusive language, innovative approach…)
Presence of women as first authors in academic papers (no. /% women, men, other)
Socio-Economic Impact
Research jobs created as a results of the project (no.)
Presence of young researchers (no. <35, /% women, men, other)
Contribution to the achievement of UN Sustainable Development Goals (SDGs)
Impact on governance, involvement of policy makers/civil society
More Information. Source: https://gender-net-plus.eu/

Policy Recommendations Gendered Innovations Stanford
Three pillars of the science, health & medicine, engineering, and environment infrastructure. To reap the benefits of sex and gender analysis, the pillars of science infrastructure must coordinate policies (Tannenbaum et al., 2019).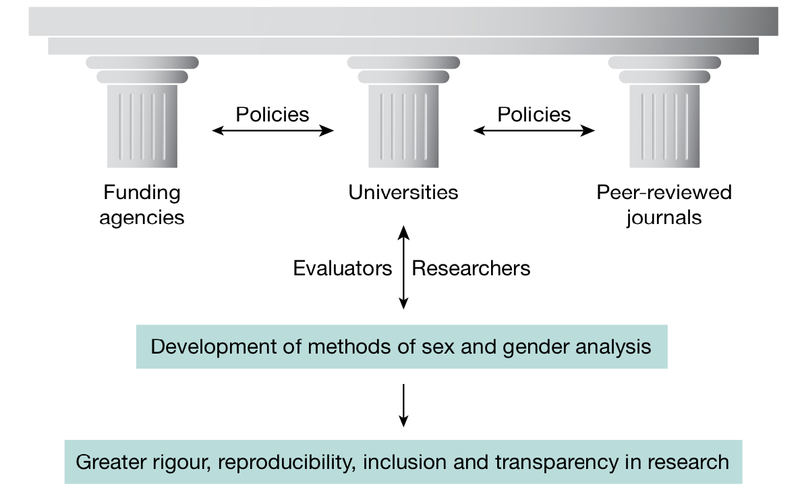 1. Granting Agencies can ask applicants to explain how sex and gender analysis is relevant in their proposed research. Click to find a list of funding agency policies.
2. Editors of Peer-Reviewed Journals and Peer-Reviewed AI Conferences can require sophisticated sex and gender analysis when selecting papers for publication or conference presentation.
3. Universities need to step up and incorporate sex and gender analysis as conceptual tools into the core curriculum of natural science, health & medicine, engineering, and environmental science. Universities must do more to prepare the scientific workforce for the future.
4. Industry can incorporate the smartest aspects of gender to open new markets and enable innovation in products, processes, services, or infrastructures. Products that meet the needs of complex and diverse user groups enhance global competitiveness and sustainability.
Source: http://genderedinnovations.stanford.edu/sex-and-gender-analysis-policies-major-granting-agencies.html